The NEW ZipNVR range
with auto-detection and configuration of IP cameras.
Zip by name, ZIPPY by nature!
2MP, 5MP or 4K Resolution
---
High Definition 5 Megapixel
It's probably easiest to think of a pixel as a tiny piece of a large jigsaw puzzle or mosaic that when joined by additional pieces creates a much bigger picture.
The resolution of a camera image is determined by how many and how tightly packed these pieces (pixels) are put together in a given space. One megapixel is created from 1 million of these pixels.
A 5 megapixel camera (5MP) would have roughly five million tiny squares of information per inch whilst others just 2 megapixels (2MP) would only have two millions squares of information in an inch.
Ultra High Definition 4K Resolution
Ultra HD 4K resolution is the equivalent of around 8.5MP, perfect for licensed premises or retail outlets where footage might end up as evidence to convict troublemakers or serial shoplifters.
So what does this mean for the quality of your image?
Well as you might expect, the more information (or pixels) in an image the better and the tighter they are squeezed together the better the image looks to the human eye as shown in the example below.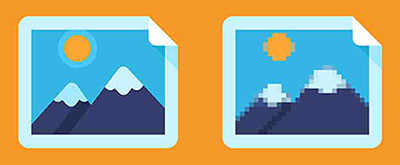 In CCTV terms, it is this detail that really matters and could be the difference between a conviction or not when it comes to identifying a suspect.
ZIP IP CCTV cameras boast a 5 Megapixel resolution offering more than twice the detail of inferior 2MP cameras on the market but not at twice the cost!
ZIP HD CCTV cameras are all about options, with a choice of 2MP, 5MP and the superb 4K model you can choose the perfect resolution to fit the job requirements!